The Brief.
Today we have been set a one day brief to create a gift for the design studio HORT based in Berlin. HORT is a design studio launched in 1994. It initially developed a reputation for its music industry-based design projects, however since then, it has demonstrated both versatility and an approach to experimentation through the juggling of big client work, such as Nike, Volkswagen and The New York Times.
The brief for today is to produce a piece of work exclusively for Hort. This design will be sent to Germany to inform and excite Horts founder ahead of the LCABAGD Trip to Berlin.
What will you make? Do some research. Develop a concept. Have some fun. Your work can be produced using any medium or technique. Both digital and physical outputs can be devised but you are asked to ensure that each offering is submitted as a 300dpi image. These digital files will be collected at the end of the day. It is also suggested that you should blog this day's work to make full use of any potential exposure.
Possible Ideas.
Before jumping right into designing the gift for HORT, I decided it would be a good idea to make a mind map of some possible ideas. Obviously as this is a one day brief, this will be pretty vague. My response will be an obvious response to each concept, however, as there isn't enough time to have a bigger, deeper, less obvious concept.
I have decided to focus my brief on blue whales becoming extinct. It will be a very simple gif - but it won't say hello, like suggested by the brief. Instead, it will focus on the whale not saying hello, meaning that they are disappearing. Now I am going to research some designs based around extinction to see what has already been created about the subject.
Research.
Firstly, I decided to look into WWF posters, as I have followed a lot of their campaigns about animal extinction, and their designers are incredibly talented at getting a point across, without being too graphic with imagery to scare people. I particularly think the next two images are really successful, as they explain simply why the animals are becoming more endangered and how terrifying the prospect of that is.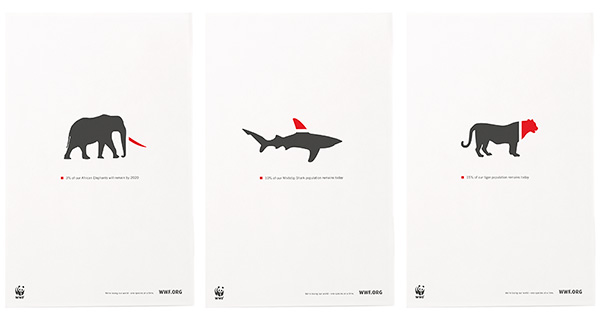 I follow an online website called The Dodo, which is an organisation fighting against animal cruelty. This particular website is really successful, as it uses its Facebook page to its advantage - it will post quite heart-wrenching videos of animal cruelty, but it will also post happy stories about animals being rescued. I really like the name of this company and the icon logo, although I'm not particularly a fan of the typeface used.
I watched a documentary a couple of years ago entitled Blackfish. This documentary was such a success as it exposes the mistreated animals in SeaWorld in the USA. The campaign for this documentary was huge, and people still talk about it to this day. There has also been progress in the court case against SeaWorld - something that this documentary definitely helped with. I think the fact that the documentary was a moving image definitely helped, as it was on Netflix and pretty much accessible to everyone with the internet. For this reason, I think I would like to make a gif for HORT.
I decided this would be easiest to achieve my paper cutting. This is because I have never created an animation before, and for a one day brief it's probably not the best idea to try to learn a completely new skill. I got to work on my paper cutting, and then took single images, moving each piece of stock each frame. This was actually quite tedious, however I think the images have come out very successfully. These can be seen below. There was 28 images to put together into a gif and edit.
As I have made gifs before, this was quite an easy process. Here is the final gif. I think it's very successful and it gets the message across that I was trying to about extinction, without being graphic.